Shielded SMD Power Inductor (PDRH Series)
Shielded SMD Power Inductor (PDRH Series)
ShieldedSMDpowerinductor,compact,lowprofilewithlowDCRandlargecurrent,withmagneticallyshieldedagainstrediation.ApplicationsDimensions(Unit:mm)FeaturesStandardElectricalSpecificationsInductanceandRatedC
Product description
Product parameters
Product parameters
Commodity name:

Shielded SMD Power Inductor (PDRH Series)

Commodity ID:

VIKING14

ShieldedSMDpowerinductor,compact,lowprofilewithlowDCRandlargecurrent,withmagneticallyshieldedagainstrediation.ApplicationsDimensions(Unit:mm)FeaturesStandardElectricalSpecificationsInductanceandRatedC

Shielded SMD power inductor , compact , low profile with low DCR and large current , with magnetically shielded against rediation.

Features

· Directly connected electrode on ferrite core.
· Excellent property with high saturation for surface mounting.

Applications

· OA Equipment.
· Notebook PCs.

· LCD Monitor.
· Portable Terminal Equipment.

· DC/DC Converters, etc.
· Power Supply for VTR.

Dimensions (Unit: mm)

Inductance and Rated Current Ranges

- PDRH0302: 0.47 ~ 1800μH, 1.84 ~ 0.036A
- PDRH0303: 1.0 ~ 3300μH, 1.90 ~ 0.026A
- PDRH0502: 0.47 ~ 820μH, 2.33 ~ 0.120A
- PDRH0503: 0.47 ~ 2500μH, 4.82 ~ 0.045A
- PDRH0603: 1.0 ~ 3300μH, 4.70 ~ 0.078A
- Test equipment:
• L: HP4284A LCR meter
• DCR: Milli-ohm meter
- Electrical specifications at 25°C

Characteristics

- Rated DC Current: The current when the inductance becomes 30% lower than its initial value.
- Operating temperature: -40 ~ 125°C

Product Identification

Standard Electrical Specifications

PDRH 0302 / 0303 Type (Electrical Characteristics)

PDRH 0502 / 0503 / 0603 Type (Electrical Characteristics)

Product parameters
Shielded SMD power inductor , compact , low profile with low DCR and large current , with magnetically shielded against rediation.
Features
· Directly connected electrode on ferrite core.
· Excellent property with high saturation for surface mounting.
Applications
· OA Equipment.
· Notebook PCs.
· LCD Monitor.
· Portable Terminal Equipment.
· DC/DC Converters, etc.
· Power Supply for VTR.
Dimensions (Unit: mm)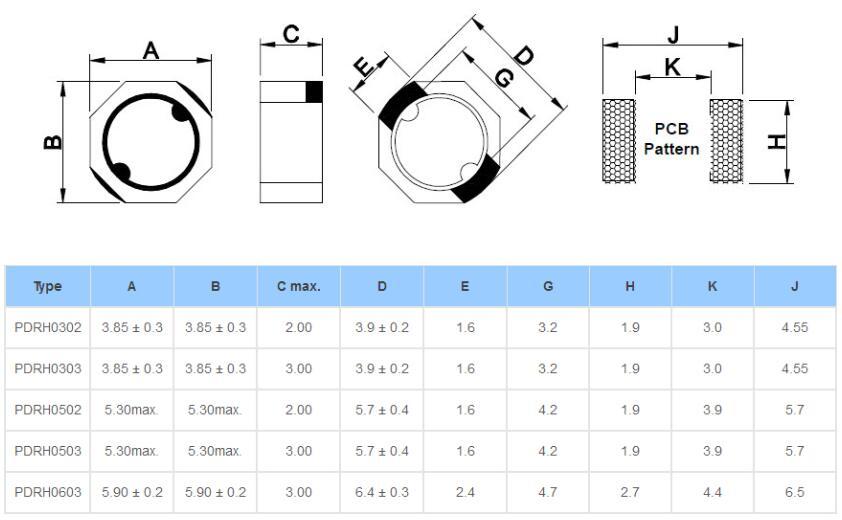 Inductance and Rated Current Ranges
- PDRH0302: 0.47 ~ 1800μH, 1.84 ~ 0.036A
- PDRH0303: 1.0 ~ 3300μH, 1.90 ~ 0.026A
- PDRH0502: 0.47 ~ 820μH, 2.33 ~ 0.120A
- PDRH0503: 0.47 ~ 2500μH, 4.82 ~ 0.045A
- PDRH0603: 1.0 ~ 3300μH, 4.70 ~ 0.078A
- Test equipment:
• L: HP4284A LCR meter
• DCR: Milli-ohm meter
- Electrical specifications at 25°C
Characteristics
- Rated DC Current: The current when the inductance becomes 30% lower than its initial value.
- Operating temperature: -40 ~ 125°C
Product Identification
Standard Electrical Specifications
PDRH 0302 / 0303 Type (Electrical Characteristics)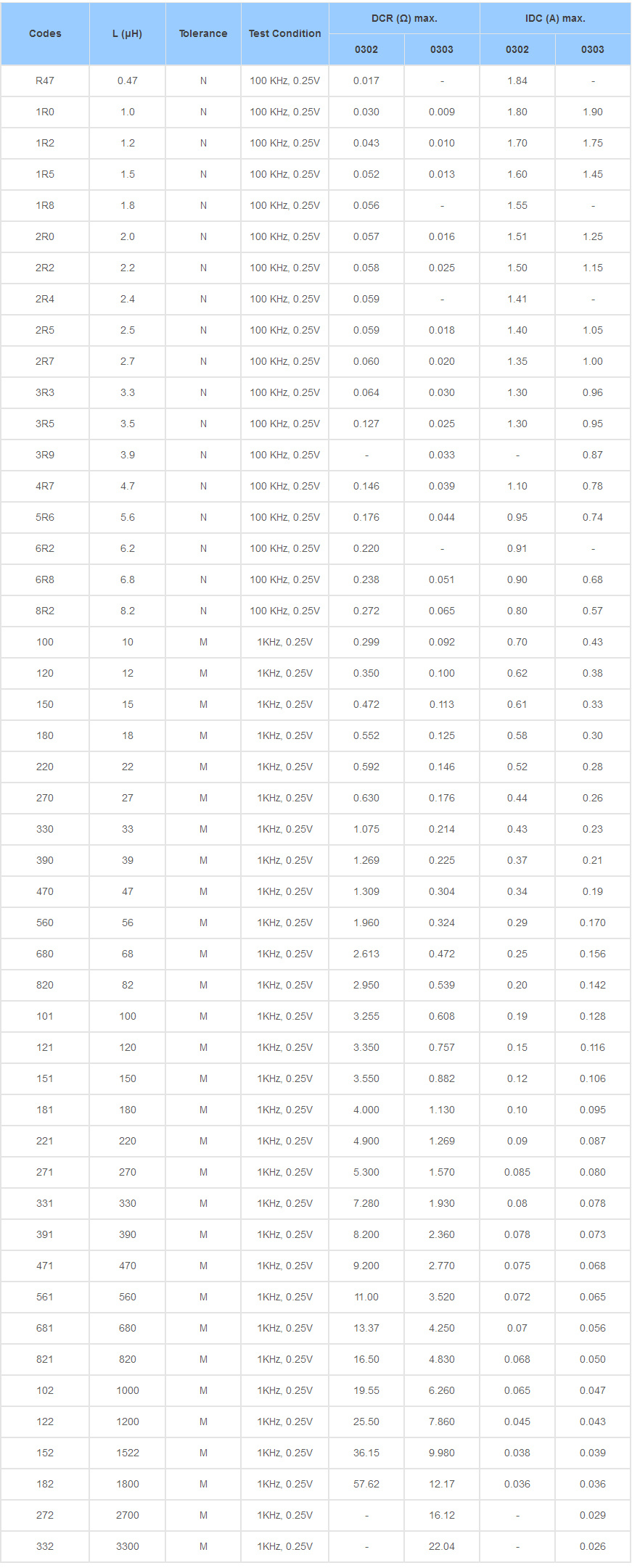 PDRH 0502 / 0503 / 0603 Type (Electrical Characteristics)

Product parameters