SMD Power Inductor (SDIA Series)
SMD Power Inductor (SDIA Series)
· SmallandLowprofileinductor.· Itcorrespondstohighcurrent.· Shieldstructuremagnetically.· Strongstructureagainstashock-proof.· RatedDCCurrent:Thecurrentwhentheinductancebecomes30%lowerthanitsinitialva
Product description
Product parameters
Product parameters
Commodity name:

SMD Power Inductor (SDIA Series)

Commodity ID:

VIKING79

· SmallandLowprofileinductor.· Itcorrespondstohighcurrent.· Shieldstructuremagnetically.· Strongstructureagainstashock-proof.· RatedDCCurrent:Thecurrentwhentheinductancebecomes30%lowerthanitsinitialva

SMD miniature power inductor , small size and low profile , it corresponds to high current , shield structure magnetically. Storng structure against a shock -proof for LCD display, small size of DC to DC converters, PDA.

Features

· Small and Low profile inductor.
· It corresponds to high current.
· Shield structure magnetically.

· Strong structure against a shock-proof.
· Rated DC Current: The current when the inductance becomes 30% lower than its initial value.
· Operating temperature range: -40 ~ 125°C

Applications

· LCD Display etc.
· For Small DC to DC Converters.
· PDA.

Dimensions (Unit: mm)

Inductance and Rated Current Ranges

- SDIA0310: 1.0 ~ 47μH, 1.40 ~ 0.22A
- SDIA0312: 1.5 ~ 47μH, 1.87 ~ 0.27A
- SDIA0315: 1.0 ~ 47μH, 2.10 ~ 0.32A
- SDIA0410: 1.0 ~ 22μH, 2.00 ~ 0.45A
- SDIA0412: 1.0 ~ 22μH, 2.61 ~ 0.46A
- SDIA0415: 1.0 ~ 22μH, 2.50 ~ 0.68A
- SDIA0418: 1.0 ~ 47μH, 4.00 ~ 0.57A
- SDIA0420: 1.0 ~ 47μH, 4.78 ~ 0.74A
- SDIA0430: 1.0 ~ 100μH, 5.26 ~ 0.60A
- SDIA0520: 1.0 ~ 47μH, 4.33 ~ 0.81A
- SDIA0528: 2.2 ~ 47μH, 5.50 ~ 1.00A
- SDIA0540: 1.0 ~ 100μH, 7.35 ~ 0.75A
- SDIA0610: 1.5 ~ 22μH, 2.40 ~ 0.65A
- SDIA0612: 3.3 ~ 22μH, 1.80 ~ 0.76A
- SDIA0620: 1.0 ~ 47μH, 4.30 ~ 1.00A
- SDIA0628: 1.0 ~ 100μH, 6.70 ~ 0.65A
- SDIA0645: 2.2 ~ 100μH, 6.00 ~ 0.80A
- SDIA0840: 2.2 ~ 680μH, 7.10 ~ 0.30A
- Test equipment:
• L: HP4284A LCR meter
• DCR: Milli-ohm meter
- Electrical specifications at 25°C

Characteristics

- Rated DC Current: The current when the inductance becomes 30% lower than its initial value.
- Operating temperature range: -40 ~ 125°C

Product Identification

Standard Electrical Specifications

SDIA0310 / 0312 / 0315 / 0410 Type (Electrical Characteristics)

SDIA0412 / 0415 / 0418 / 0420 Type (Electrical Characteristics)

SDIA0430 / 0520 / 0528 / 0540 Type (Electrical Characteristics)

SDIA0645 / 0840 Type (Electrical Characteristics)

Product parameters
SMD miniature power inductor , small size and low profile , it corresponds to high current , shield structure magnetically. Storng structure against a shock -proof for LCD display, small size of DC to DC converters, PDA.
Features
· Small and Low profile inductor.
· It corresponds to high current.
· Shield structure magnetically.
· Strong structure against a shock-proof.
· Rated DC Current: The current when the inductance becomes 30% lower than its initial value.
· Operating temperature range: -40 ~ 125°C
Applications
· LCD Display etc.
· For Small DC to DC Converters.
· PDA.
Dimensions (Unit: mm)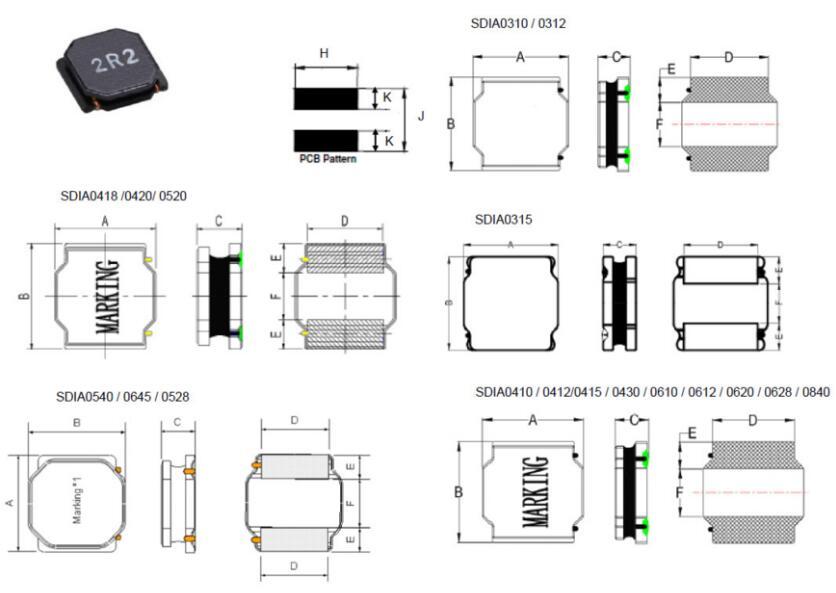 Inductance and Rated Current Ranges
- SDIA0310: 1.0 ~ 47μH, 1.40 ~ 0.22A
- SDIA0312: 1.5 ~ 47μH, 1.87 ~ 0.27A
- SDIA0315: 1.0 ~ 47μH, 2.10 ~ 0.32A
- SDIA0410: 1.0 ~ 22μH, 2.00 ~ 0.45A
- SDIA0412: 1.0 ~ 22μH, 2.61 ~ 0.46A
- SDIA0415: 1.0 ~ 22μH, 2.50 ~ 0.68A
- SDIA0418: 1.0 ~ 47μH, 4.00 ~ 0.57A
- SDIA0420: 1.0 ~ 47μH, 4.78 ~ 0.74A
- SDIA0430: 1.0 ~ 100μH, 5.26 ~ 0.60A
- SDIA0520: 1.0 ~ 47μH, 4.33 ~ 0.81A
- SDIA0528: 2.2 ~ 47μH, 5.50 ~ 1.00A
- SDIA0540: 1.0 ~ 100μH, 7.35 ~ 0.75A
- SDIA0610: 1.5 ~ 22μH, 2.40 ~ 0.65A
- SDIA0612: 3.3 ~ 22μH, 1.80 ~ 0.76A
- SDIA0620: 1.0 ~ 47μH, 4.30 ~ 1.00A
- SDIA0628: 1.0 ~ 100μH, 6.70 ~ 0.65A
- SDIA0645: 2.2 ~ 100μH, 6.00 ~ 0.80A
- SDIA0840: 2.2 ~ 680μH, 7.10 ~ 0.30A
- Test equipment:
• L: HP4284A LCR meter
• DCR: Milli-ohm meter
- Electrical specifications at 25°C
Characteristics
- Rated DC Current: The current when the inductance becomes 30% lower than its initial value.
- Operating temperature range: -40 ~ 125°C
Product Identification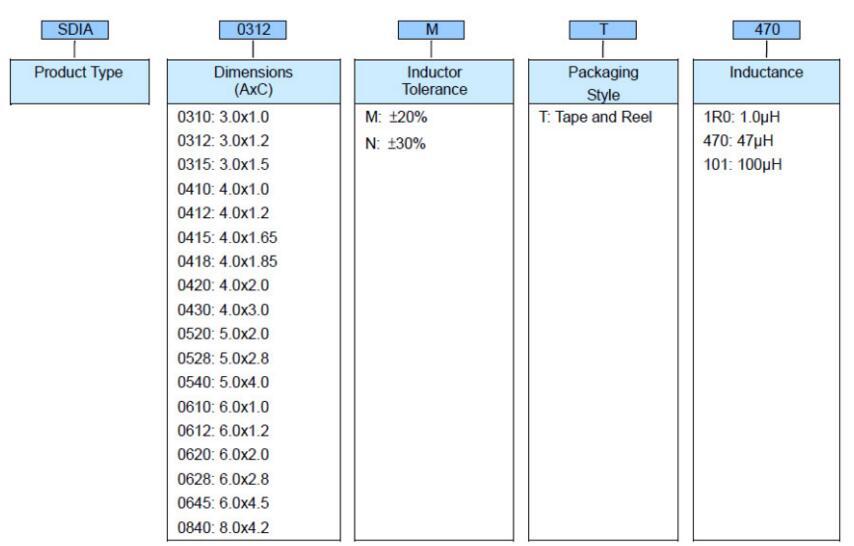 Standard Electrical Specifications
SDIA0310 / 0312 / 0315 / 0410 Type (Electrical Characteristics)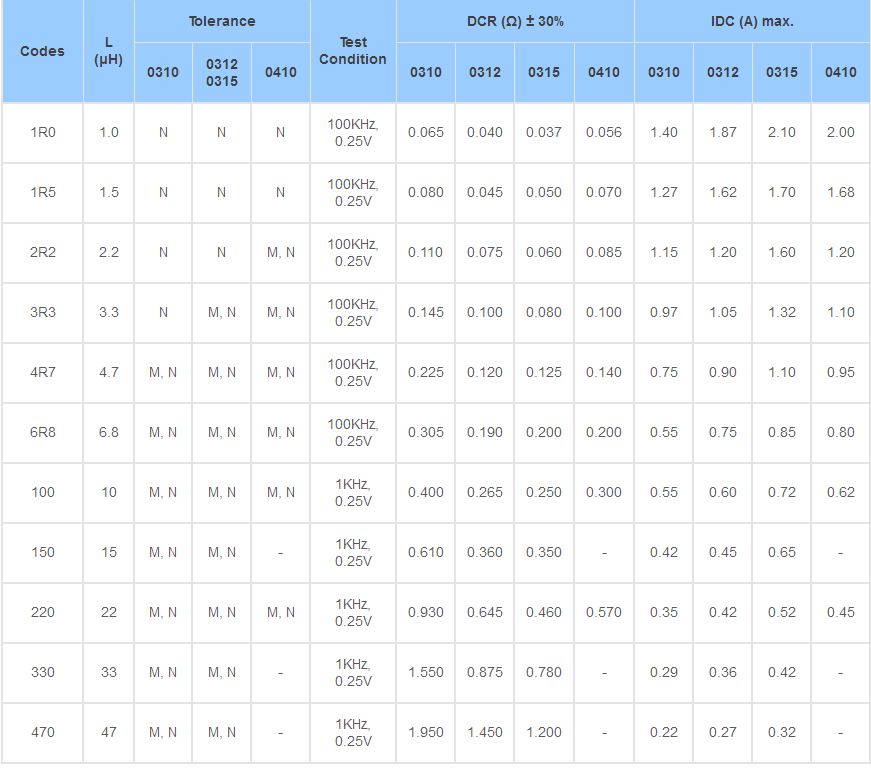 SDIA0412 / 0415 / 0418 / 0420 Type (Electrical Characteristics)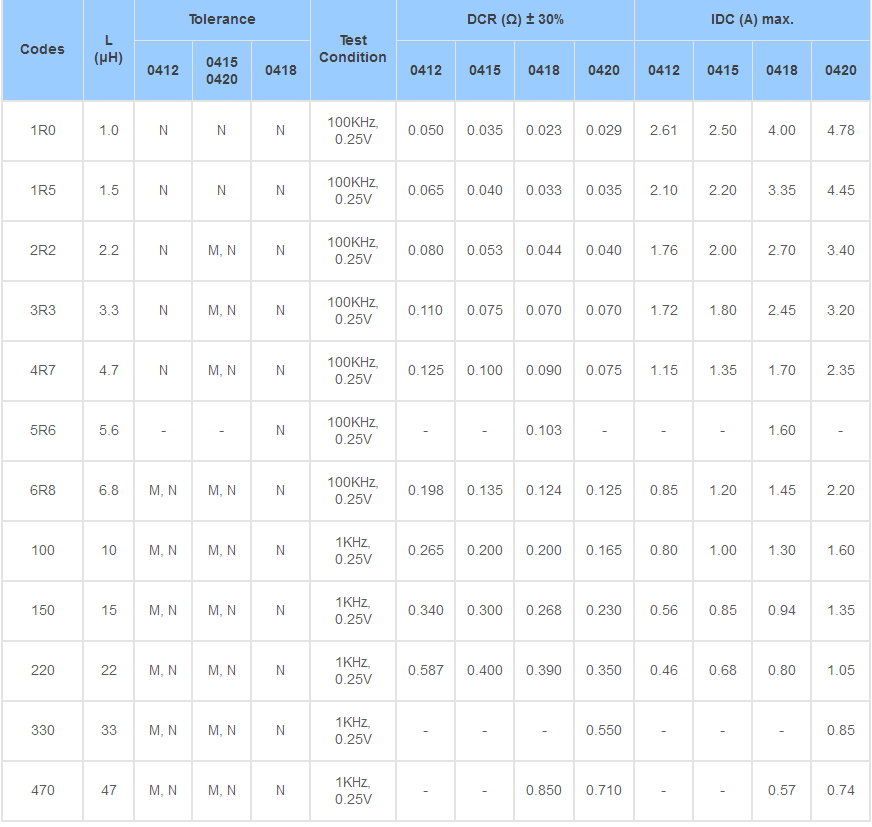 SDIA0430 / 0520 / 0528 / 0540 Type (Electrical Characteristics)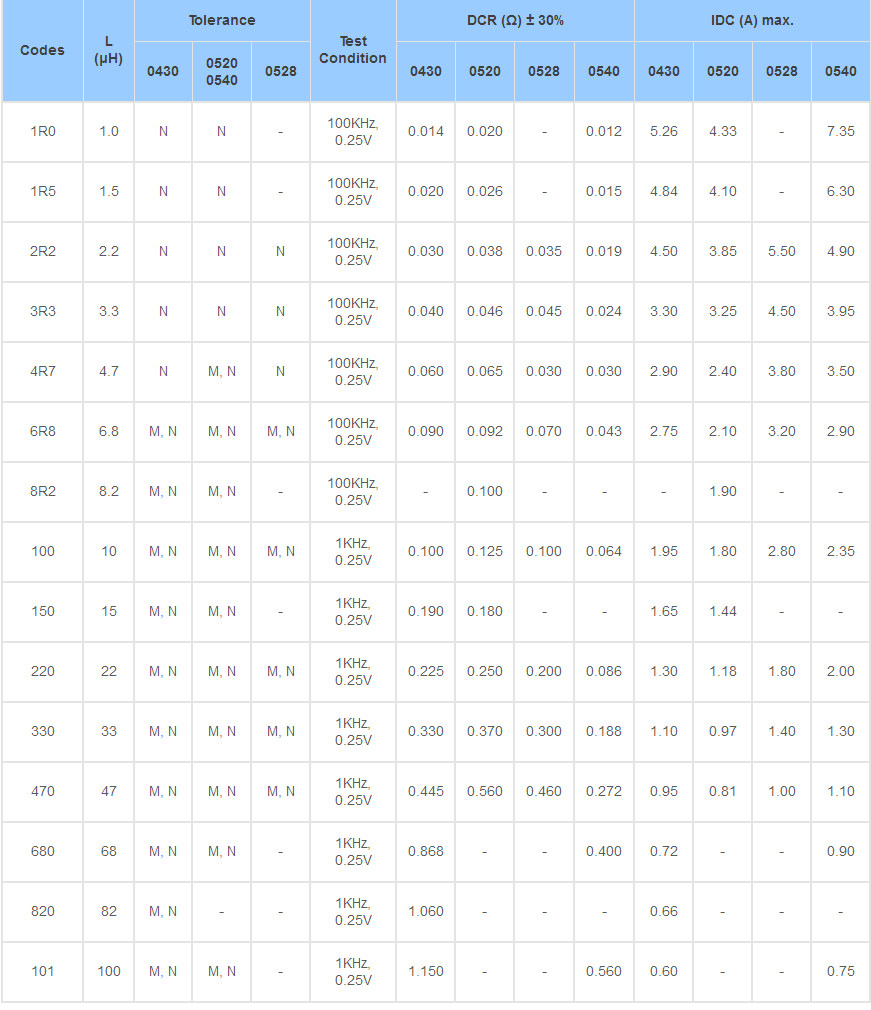 SDIA0645 / 0840 Type (Electrical Characteristics)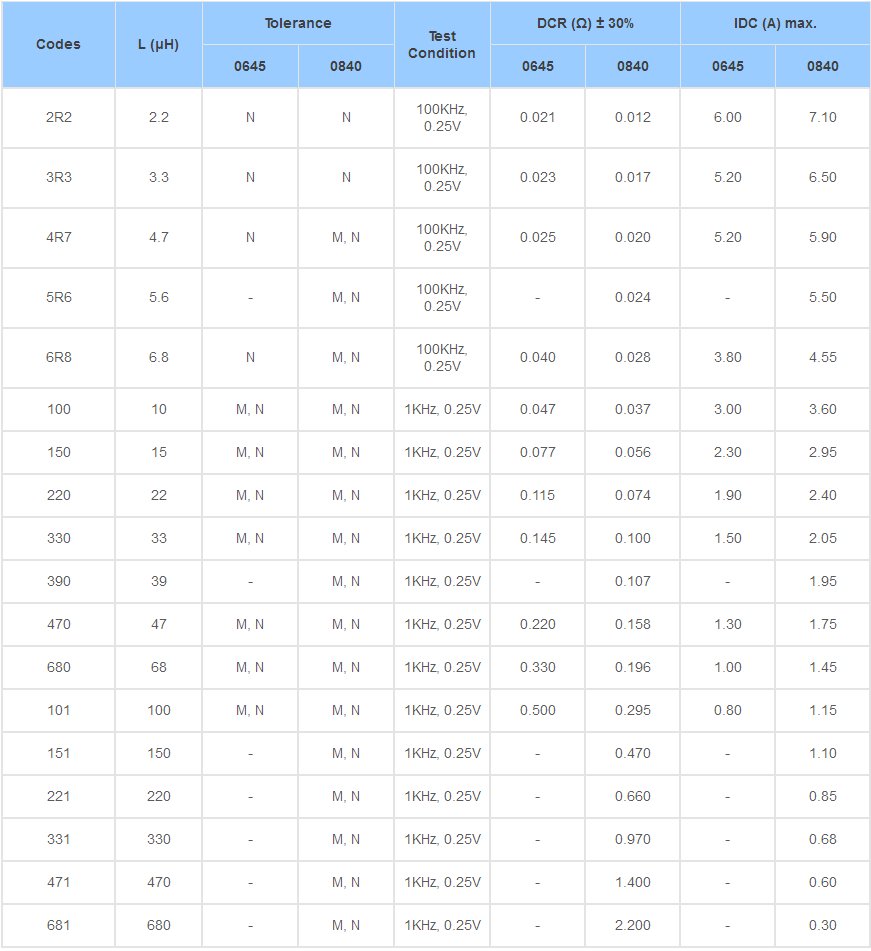 Product parameters